The Avant that melts the hearts of even the coolest fans
After the demand for the RS4-R, which was limited to 50 units, far exceeded our offer, we decided to launch the RS4+, at least as attractive as the RS4-R, for those who didn't get away empty-handed.
The edition, which is also limited to 50 pieces, can be enjoyed with all the senses. The obligatory performance increase provides a pleasant pressure in the seats, the silencer system for the appropriate sound, rims and aerodynamic parts for the sporty-aggressive look and the individual ABT interior for the feel-good factor. A successful combination that makes the hearts of RS4+ drivers beat faster.
| Audi RS4 | stock | ABT RS4+ |
| --- | --- | --- |
| Power | 450 HP (331 kW) | 510 HP (375 kW) |
| Torque | 600 Nm | 680 Nm |
| 0-100 km/h | 4,1 Sek. | 3,9 Sek. |
Downloads
ABT RS4 + currently only available on the basis of existing vehicles (NEDC cycle).
The power package for the RS4+
The already fast series-Biturbo-V6 with 450 HP (331 kW) gets a good plus of 60 HP (44 kW) respectively 80 Nm to 510 HP (680 Nm) in the RS4+ package by our separate additional control unit AEC. If that's not enough for you, you can optionally upgrade to 530 HP (390 kW) with the ABT Power S power boost. The ABT coilover springs and sports stabilizers ensure that the concentrated power is perfectly brought onto the road.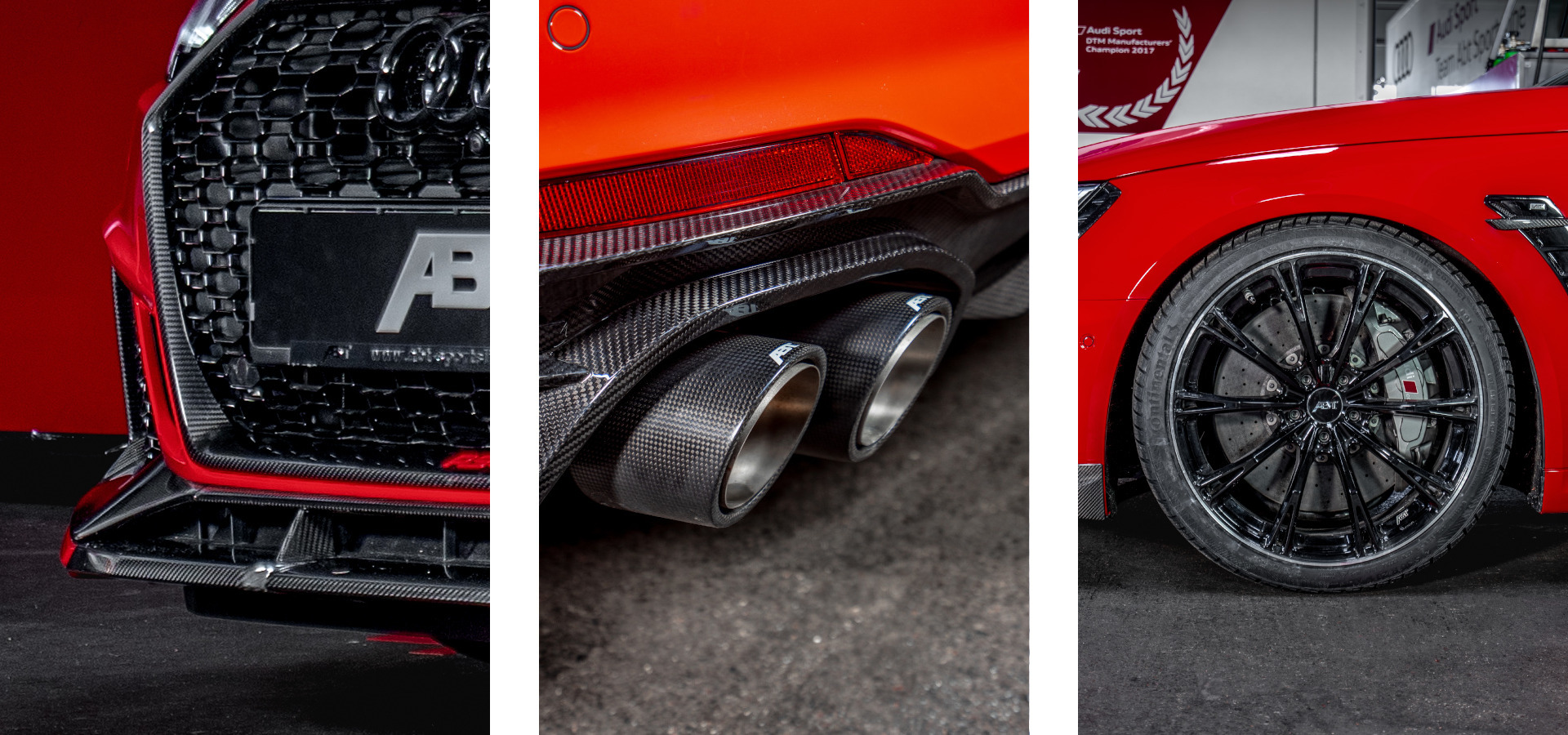 With so many inner values, the RS4+ can also show outwards what it is capable of. The front grille and front lip attachments as well as the front blades, which replace the original front flics, and the rear apron insert, which is surmounted by a dynamic ABT rear spoiler, provide for one or two envious looks. The 20 inch GR sports rims in glossy black also fit perfectly into the overall picture.
The "wow effect" when boarding is created by many high-quality and stylish details such as the ABT door sills, the ABT gear knob cap, the refinement of the front seats with ABT logo and RS4+ lettering and the door entry lighting, which projects the RS4+ logo onto the floor.
And if you haven't noticed the RS4+ despite its appealing appearance, you'll turn around when you start the engine at the latest. The ABT exhaust system with its four attractive tailpipes not only provides a great look, but also the right sound.