STRIDER 11 ABT SPORT MASTER
ABT brings Power onto the water
Passion for power and speed, attention to detail and commitment to high quality - should not be exclusive to the road. And The STRIDER 11 ABT SPORT MASTER LIMITED EDITION is living proof of this. The result of our collaboration with the renowned Italian boat builder SACS is a 800 HP (588 kW) powerful, luxury speed boat. You'll be happy to leave your super sports car on the shore.
The basis for this unusual project is the Strider 11 production model with 740 HP (544 kW). With the help of the high-tech control unit ABT Engine Control (AEC), an additional 60 HP are generated. As such, the fascinating 4.5-tonne, 11-metre water vehicle achieves over 50 knots (approx. 93 km/h).
| | Technical data | ABT Features | |
| --- | --- | --- | --- |
| | Power 800 HP (588 kW) | ABT Power Kit | |
| | Weight 4500 kg | ABT Carbon Look Kit | |
| | Length 11 m | ABT Engine Room Design Kit | |
| | Speed > 50 kts | ABT Exhausts Sound Control Kit | |
| | | ABT Remote Controls Kit | |
| | | ABT Individual Interiors Kit | |
| | | ABT Individual Exteriors Kit | |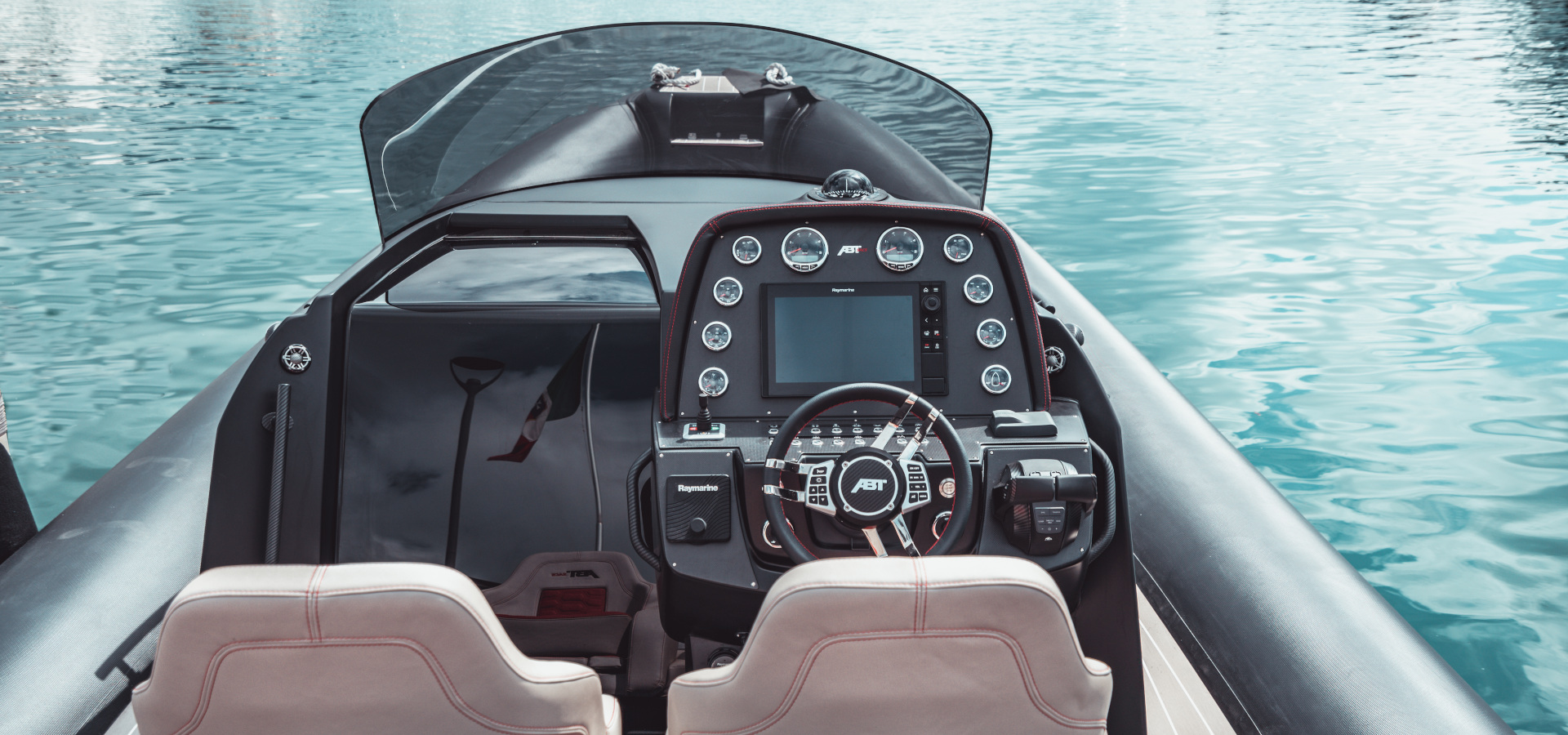 EVEN AT FIRST GLANCE, A REAL ABT
Carbon black hoses, a matt black hull and deck, and accessories in ABT red not only emphasise the sportiness of the Limited Edition, but also let you know immediately who's been involved here. It also features numerous real carbon design elements from the ABT Carbon Look Kit.ABT Individual indoor and outdoor kits, which have been specifically designed for the Strider 11 ABT, supply additional high-quality details, right up to the cushions. A particular highlight is the newly designed steering wheel. This also carries the ABT signature.
Even the engine compartment was included in the design. However, in addition to look and feel, sound is also important. The STRIDER 11 ABT SPORT MASTER also shines acoustically thanks to ABT exhaust sound-control: It turns this sports speed boat into an absolute emotional firework.
Anfrage zum Strider 11 ABT